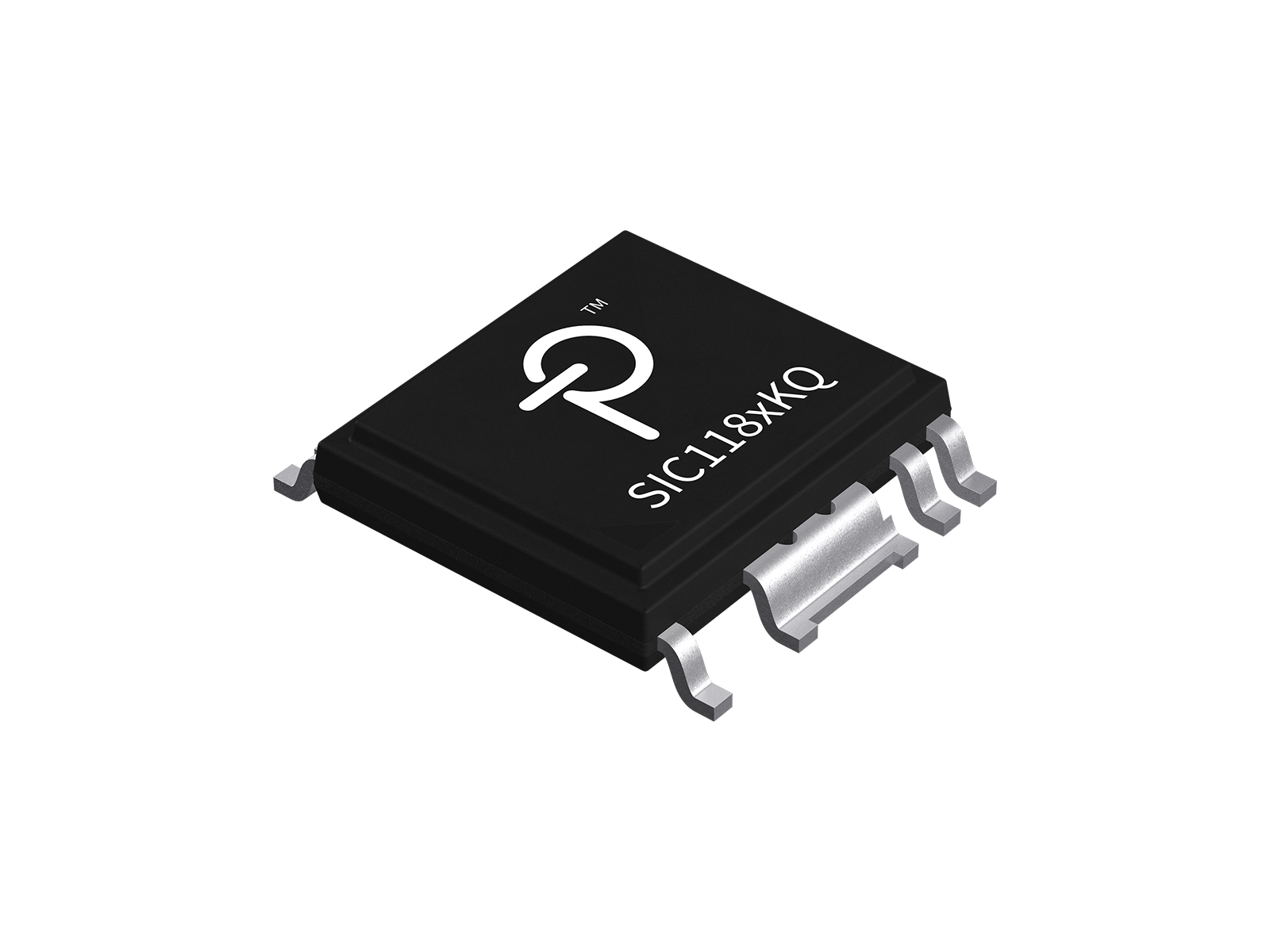 SIC1181KQ
Single Channel SiC MOSFET and IGBT Gate Driver with Advanced Active Clamping and Reinforced Isolation for Automotive Applications
Product Details
SIC1181KQ and SIC1182KQ are single channel gate drivers for SiC MOSFETs. Reinforced galvanic isolation is provided by Power Integrations' revolutionary solid insulator FluxLink technology. Up to ±8 A peak output drive current enables the product to drive devices with nominal currents of up to 600 / 800 A (typical).
Additional features such as undervoltage lock-out (UVLO) for primary-side and secondary-side, and rail-to-rail output with temperature and process compensated output impedance, guarantee safe operation even in harsh conditions.
SIC118xKQ also features short-circuit protection (at and during turn-on phase), and overvoltage limitation through Advanced Active Clamping (at turn-off phase) via a single sensing pin. For SIC MOSFETs with a current-sense terminal, adjustable over-current detection can be realized.
Specifications
Specifications
Max Switching Frequency
150.00 kHz
IGBT Voltage Class
750 V
Technology
SCALE-iDriver
Interface Type
Electrical
Number of Channels
1
Gate Peak Current (Max)
+8 A
Product Type
IC
Product Sub-Type
Driver IC
Supported Module Type

IGBT

Silicon Carbide

Main/Peripheral
N/A
Supported Topologies

2-level Voltage Source

3-level NP-Clamped - Type 1

3-level NP-Clamped - Type 2

Multi-Level NP-Clamped

Protection Features

Adv Active Clamping

Dynamic Adv Active Clamping

Short Circuit

UVLO(Sec-side)

UVLO(Pri-side)

Driving Mode
Direct-Independent
Logic Input Voltage
5
Supply Voltage (Typ)
5.00 V
Time - Output Rise
22.00 ns
Time - Output Fall
18.00 ns
Isolation Technology
Fluxlink
Isolation Type
Reinforced
Gate Peak Current (Min)
-8