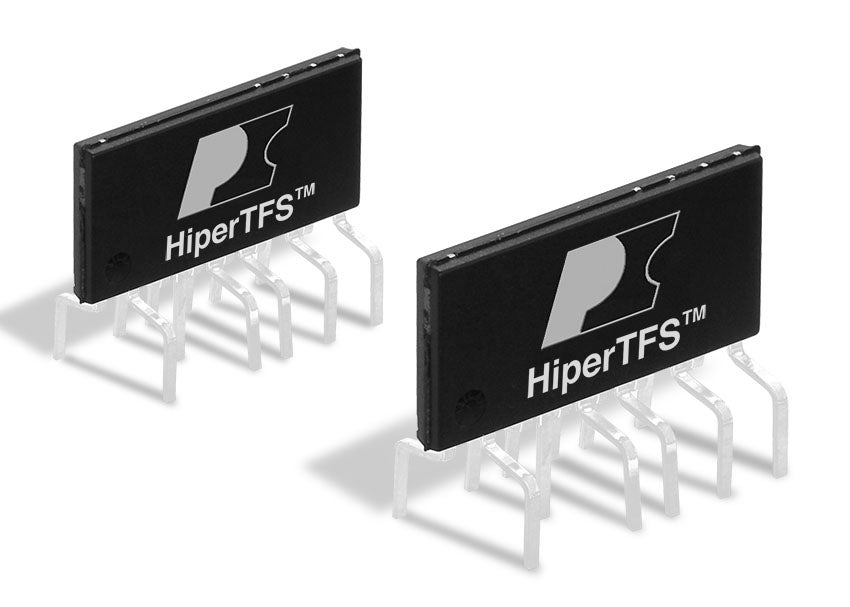 TFS759HG
Combined Two-Switch Forward and Flyback Power Supply with Integrated High Voltage MOSFETs
Product Details
Product Discontinuation Information
Production of HiperTFS™ will end after June 10, 2020. Please contact your local PI sales office for smales to help migration to the replacement products.
Suggested Alternative Parts:
| | | | |
| --- | --- | --- | --- |
| Part Number | Alternative Part | Part Number | Alternative Part |
| TFS757HG | TFS7701H | TFS761HG | TFS7705H |
| TFS758HG | TFS7702H | TFS762HG | TFS7706H |
| TFS759HG | TFS7703H | TFS763HG | TFS7707H |
| TFS760HG | TFS7704H | TFS764HG | TFS7708H |
Description
The HiperTFS device family members incorporate both a high-power two-switch-forward converter and a mid-power flyback (standby) converter into a single, low-profile eSIP™ power package. The single chip solution provides the controllers for the two-switch-forward and flyback converters, high- and low-side drivers, all three of the high-voltage power MOSFETs, and eliminates the converter's need for costly external pulse transformers. The device is ideal for high power applications that require both a main power converter (two-switch forward) up to 414 W, and standby converter (flyback) up to 20 W. HiperTFS includes Power Integrations' standard set of comprehensive protection features, such as integrated soft-start, fault and over-load protection, and hysteretic thermal shutdown. HiperTFS utilizes advanced power packaging technology that simplifies the complexity of two-switch forward layout, mounting and thermal management, while providing very high power capabilities in a single compact package. The devices operate over a wide input voltage range, and can be used following a power-factor correction stage such as HiperPFS.
Product Highlights
Key Benefits
Single chip solution for two-switch forward main and flyback standby
High integration allows smaller form factor and higher power density designs

Incorporates control, gate drive, and three HV power MOSFETs
Level shift technology eliminates need for pulse transformer
Protection features include: UV, OV, OTP, OCP, & SCP

Transformer reset control

Prevents transformer saturation under all conditions

Allows >50% duty cycle operation

Reduces primary side RMS currents & conduction losses

Standby supply provides built-in overload power compensation
Up to 434 W total output power in a highly compact package

Up to 550 W peak
High efficiency solution easily enables design to meet stringent efficiency specifications.
>90% efficiency at full load
No-load regulation and low losses at light-load

Simple clip mounting to heat sink without need for insulation pad
Halogen free and RoHS compliant
Applications
PC
Printer
LCD TV
Video game consoles
High power adaptors
Industrial & appliance
Specifications
Specifications

| | |
| --- | --- |
| Output Power (Max) - Open Frame, 230V | 280.00 W |
| Breakdown Voltage | 725 V |
| Mounting Type | Through Hole |
| Temperature - Operating (Min) | -40 °C |
| Temperature - Operating (Max) | 150 °C |