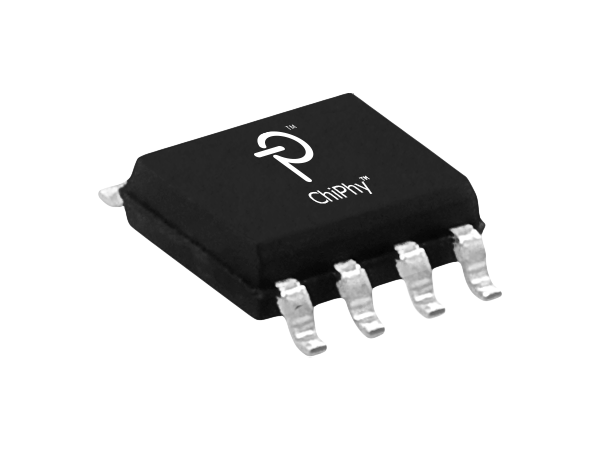 CHY100D
USB Charger Physical Interface IC for Quick Charge 2.0 Applications
Product Details
Adaptive rapid charging is the latest in USB battery charging technology that can charge devices 75% faster than conventional chargers. At the forefront of this technology is Qualcomm's Quick Charge 2.0 protocol. Quick Charge 2.0 works by detecting commands from Quick Charge 2.0 enabled devices, such as a cellphones and tablets, and adjusting the output voltage of the AC-DC charger to increase power delivery to the device's battery.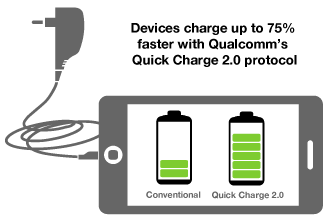 To meet the need for adaptive rapid charging systems, Power Integrations has developed the "ChiPhy" (charger physical interface) family of ICs. Used in combination with one of Power Integrations' AC-DC switcher ICs, such as TOPSwitch or TinySwitch, ChiPhy ICs add adaptive rapid charging functionality to AC-DC wall chargers.
The first in Power Integrations' line of ChiPhy ICs is the CHY100, specifically design to work with Quick Charge 2.0. If a device is not Quick Charge 2.0 compliant, the ChiPhy IC disables output voltage adjustment to ensure safe operation.
Product Highlights
Fully supports Quick Charge 2.0 specification
Class A: 5, 9, and 12 V output voltage
Class B: 5, 9, 12, and 20 V output voltage
USB battery charging specification 1.2 compatible
Automatic USB DCP shorting D+ to D- line
Default 5 V mode operation
Supports TOPSwitch and TinySwitch
Very low power consumption
Fail safe operation
Adjacent pin-to-pin short-circuit fault
Open circuit pin fault
Typical Applications
Battery chargers for smart phones, tablets, netbooks, digital cameras, and bluetooth accessories
USB power output ports
Specifications
Specifications

| | |
| --- | --- |
| Voltage - Output (Min) | 5.00 V |
| Voltage - Output (Max) | 20.00 V |
| Mounting Type | Surface Mount |
| Temperature - Operating (Min) | -40 °C |
| Temperature - Operating (Max) | 150 °C |