Mounting a Heatsink on V or L Packages
The V and L Packages
The V and L packages are both popular integrated flyback, PFC, and LLC solutions, particularly in applications requiring a low profile. The total height of the part when mounted to the PCB, without a metal heatsink, will be <3mm.
| | |
| --- | --- |
| V Package | L Package |
Mounting Heatsink
Increasing the output power capability of the V or L package is easily achieved by mounting the metal heatsink to allow higher power dissipation. The low profile advantage of the V and L packages can be realized in actual board designs by selecting the heatsinks with appropriate size and shape. In a mass production environment, it is essential that the process to mount the heatsink to be simple, repeatable, and requires minimal amount of cycle time. Such consideration will allow the factory to attain the highest level of throughput. The proposed heatsinks discussed below were chosen with manufacturability, low profile, and reduced costs to be the major considerations.
The following are the different types of heatsinks that can be used with the V and L packages:
Standard heatsink: Commercially off the shelf heatsink
Customized heatsink
Clip type (no screw mount) heatsink
Standard Heatsink
Shown below are standard heatsinks used for 50W to 100W application that will also allow low height profile applications of <12.5 mm.
| | | |
| --- | --- | --- |
| Standard Heatsinks | Heatsink mounted on L package and secured by wave soldering process. | Wave solderable heatsink mounted on V package with total height of 12.5mm |
Further Information
1. The standard heatsinks shown above are available for purchase from the Qidong Huitong Screw Factory.
2. View a mechanical outline drawing of the aluminum heatsink with the dimension details.
Customized Heatsink
In some high volume applications the feasibility of developing a customized heatsink solution provides the advantage of optimized size and shape of the heatsink to the specific application.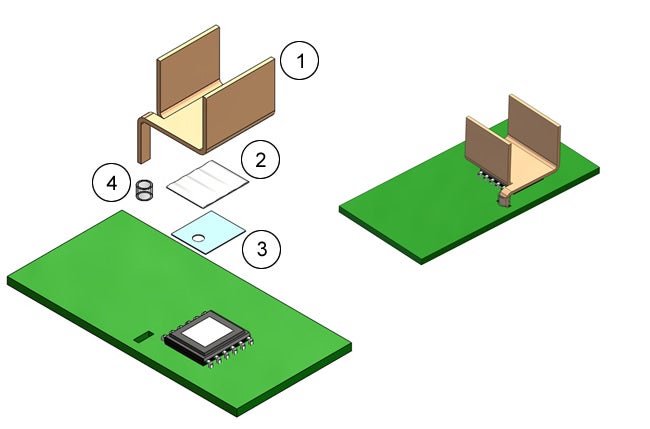 Assembly drawing for attaching customized heatsink to the V package
The following table lists the part numbers in the above illustration.
Item No.
Part Number
Description
Qty.
1
61-00086-00
Heatsink, custom, copper
0.031" THK
1
2
66-00120-00
Silicone oil-based thermal
joint compound
1
3
66-00079-00
Thermal pad TO-220 .009"
SP1000
1
4
66-00121-00
Tubing & sleeving-non
shrink. 14AWG Spool
1
No screw heatsink assembly
This approach offers the advantage of using clips or fasteners to securely place the heatsink instead of the typical screw based approach.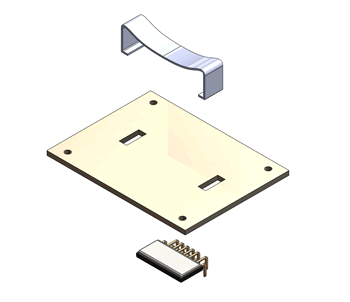 Assembly drawing for the clip type heatsink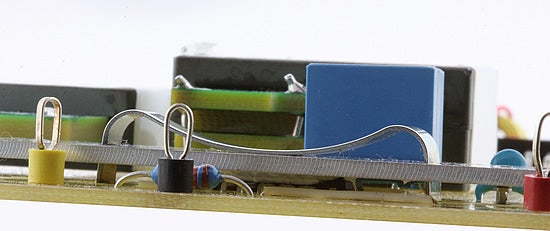 Metal heatsink attached by clip on the L package
Recommended vendors: