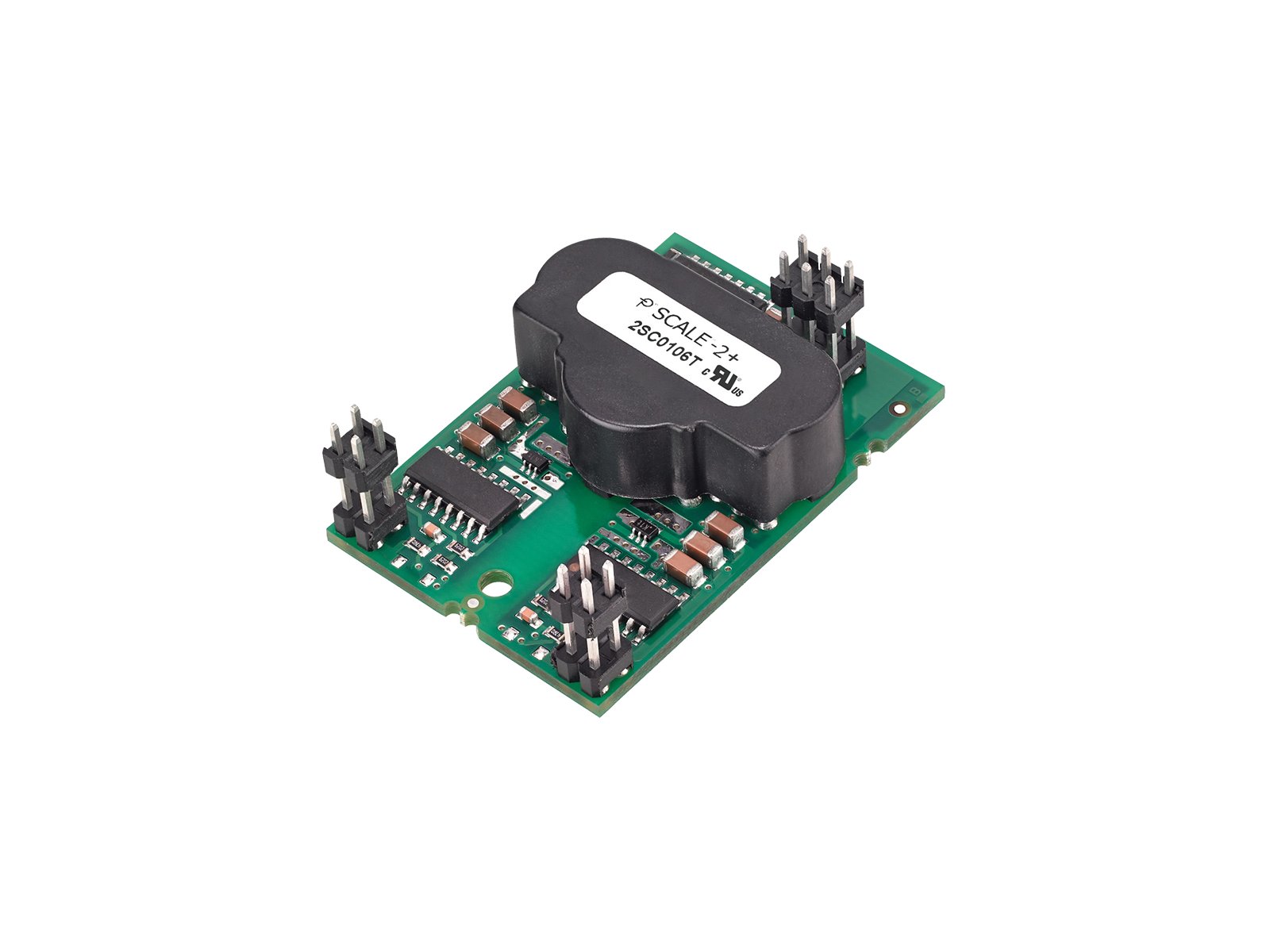 2SC0106T2A1C-12
Dual-channel SCALE-2+ driver core, highest integration level for inverter designs from 37 to 110 kVA, integrated short-circuit soft shutdown function
Product Details
The dual-channel gate driver core 2SC0106T, equipped with the new SCALE™-2+ chipset, is a high-performance two-channel IGBT/MOSFET gate driver core for 1200 V IGBTs in the 37 kW to 110 kW power range. The 2SC0106T drives 600 V to 1200 V IGBTs with collector currents up to 450 A and switches at frequencies up to 50 kHz.
The new SCALE™-2+ technology enables soft shutdown (SSD) to be implemented in the event of a short circuit without requiring additional components. This is particularly beneficial in applications with low stray-inductance where full Advanced Active Clamping – a method invented by CONCEPT for shutting down IGBTs or MOSFETs in a controlled manner under any circumstances - may not be necessary.
UL-recognized under E321757 for UL508C and E346491 for UL60950-1 is planned.
Specifications
Specifications
Max Switching Frequency
50.00 kHz
IGBT Voltage Class
1200 V
Technology
SCALE-2+
Power - Output/Channel (Max)
1.20 W
Interface Type
Electrical
Number of Channels
2
Gate Peak Current (Max)
+6 A
Product Type
Board
Product Sub-Type
Driver Core
Supported Module Type

IGBT

N-Channel MOSFET

Main/Peripheral
N/A
Supported Topologies
2-level Voltage Source
Paralleling Support?
Protection Features

Basic Active Clamping

Soft Shutdown

Short Circuit

UVLO(Sec-side)

UVLO(Pri-side)

Conformal Coated?
Yes
Driving Mode
Direct-Independent
Supply Voltage (Typ)
15.00 V
Gate Turn-on Voltage
+15.00 V
Gate Turn-off Voltage
--10.20 V
Time - Output Rise
20.00 ns
Time - Output Fall
13.00 ns
Isolation Technology
Galvanic
Isolation Type
Reinforced
Gate Boosting?
Gate Peak Current (Min)
-6