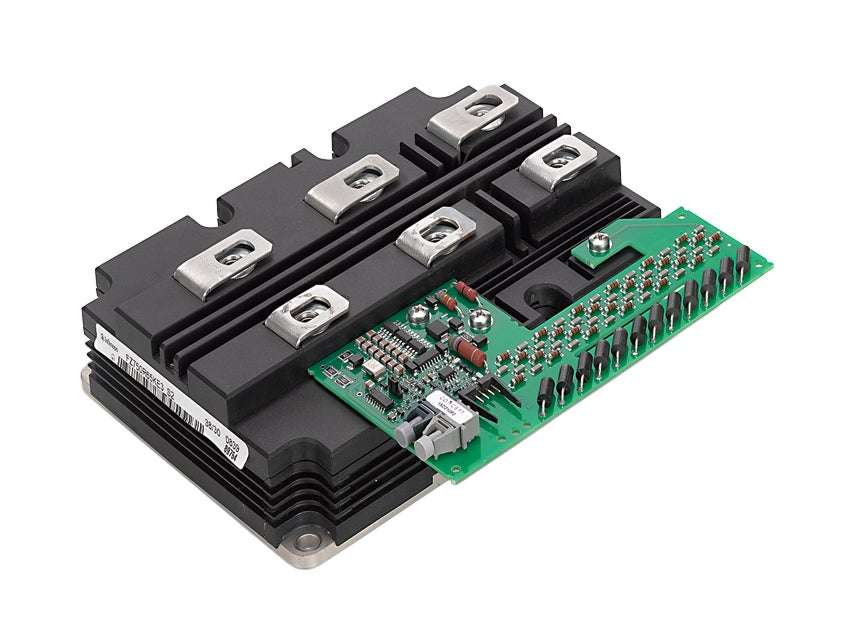 1SD210F2-FZ250R65KE3
Single-Channel SCALE™-1 Plug-and-Play Driver
Product Details
1SD210F2 single-channel, plug-and-play IGBT drivers are compact, high-performing and intelligent. They support 2-level, 3-level and multilevel converters and have been designed to precisely and reliably drive 4500 V to 6500 V IGBT modules while delivering optimum protection.
1SD210F2 drivers are based on CONCEPT's sophisticated SCALE-1 driver chipset. Devices are fully equipped with protection functions including: Vce-monitoring for short-circuit protection; operation inhibit after fault; and supply undervoltage shut down.
1SD210F2 series drivers feature an active clamping function, offering rugged and high-performance protection for costly IGBTs.
Operating the gates with a bipolar control voltage (typically ±15 V) allows the IGBT modules to be driven reliably with a high level of immunity to interference.

Fiber-optic Interface Options
Fiber-optic links are used for the electrical insulation of the command and status-feedback signals. Both straight and lateral oriented Versatile Links and ST Links are available. For details, please check the product documentation.
Power supply and electrical insulation
In contrast to the other SCALE-1 plug-and-play products, 1SD210F2 family drivers are modular with the driver card and power supply (DC/DC converter) provided as two separate units.
Because of this modular concept, any driver unit that has been developed to match a specific IGBT module can be used for any required insulation specifications. Only the power supply must be chosen or adjusted for the specific application.
Therefore, drivers for IGBTs from 3.3 to 6.5 kV can be implemented in 2-level, 3-level and multi-level inverter topologies.
The driver unit is mounted directly onto the IGBT module using three screws. The power supply is attached separately, but close to the IGBT.
Go to ISO3116I power supply for 1SD210F2 drivers.
Specifications
Specifications

| | |
| --- | --- |
| Max Switching Frequency | 4.00 kHz |
| IGBT Voltage Class | 6500 V |
| Technology | SCALE-1 |
| Product Type | Plug-and-Play Driver |
| Temperature - Operating (Min) | -40 ℃ |
| Temperature - Operating (Max) | 85 ℃ |
| Interface Type | Fiber Optic |
| IGBT Manufacturer | Infineon |
| Gate Peak Current (Max) | +250 A |