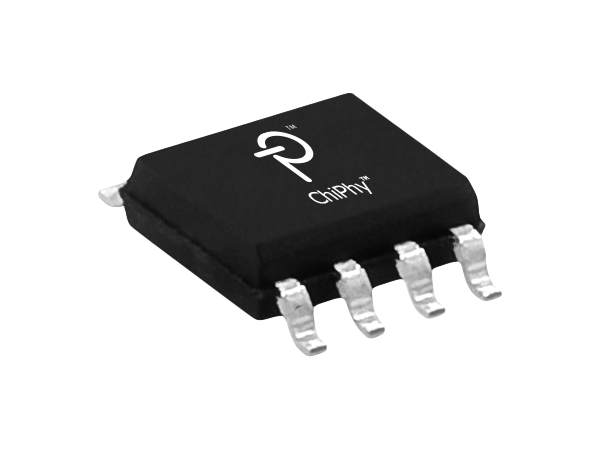 CHY101D
USB Charger Interface Physical Layer IC with Output Overvoltage Protection for QC 2.0 Applications
Product Details
CHY101 is a low-cost USB high-voltage dedicated charging port (HVDCP) interface IC for the Quick Charge 2.0 specification. It incorporates all necessary functions to add Quick Charge 2.0 capability to Power Integrations' switcher ICs such as TOPSwitch or TinySwitch and other solutions employing traditional feedback schemes.
CHY101 supports the full output voltage range of Class A (5 V, 9 V, and 12 V). CHY101 continuously monitors the output voltage and triggers OVP if the actual value exceeds 120% of the set value.
CHY101 automatically detects whether a connected Powered Device (PD) is Quick Charge 2.0 capable before enabling output voltage adjustment. If a PD not compliant to Quick Charge 2.0 is detected the CHY101 disables output voltage adjustment to ensure safe operation with legacy 5 V only USB PDs.
Specifications
Specifications

| | |
| --- | --- |
| Voltage - Output (Min) | 5.00 V |
| Voltage - Output (Max) | 12.00 V |
| Mounting Type | Surface Mount |
| Temperature - Operating (Min) | -40 °C |
| Temperature - Operating (Max) | 150 °C |