USB-C Chargers Will Soon Deliver Power to All Your Tech
From its humble beginnings as a communication protocol connecting peripherals to PCs, the Universal Serial Bus (USB) has grown to become the dominant power delivery standard for consumer electronics and mobile devices. With the expansion of output power supported by USB Type-C and favorable regulations in the works, it looks like the dominance will continue for years to come.
USB-C Now Supports 240 W Output
In March 2021, the USB Implementers Forum (USB-IF) announced USB Power Delivery Rev. 3.1, which increases the maximum power that can be sent over a USB-C cable from 100 W to 240 W. This Extended Power Range (EPR) means USB-C can soon be used to power most gaming and workstation laptops. Consumers traveling with multiple devices will finally be able to leave the bulky laptop power adapters at home and carry one charger for everything.
Europe Pushes for a Common Charger
Then in June 2022, European Union lawmakers agreed on a new legislation that will require all portable electronic devices sold in the EU to have a USB-C charging port. By 2024, all new cellphones, tablets, digital cameras, handheld videogame consoles, headphones, portable speakers, e-readers, keyboards, mice, portable navigation systems and earbuds will need to comply.
Larger devices that charge at higher than 60 W, like laptop computers, require additional hardware upgrades to comply with the new law. The deadline for them is therefore extended to 2026.
But Wait… You Need a New Cable
The conversion of high-power devices (100 W - 240 W) to USB-C charging requires not only compliant devices and chargers. It also needs specialized cables. Currently, regular USB-C cables can support up to 60 W at 20 V and 3 A. Anything over 60 W and up to 100 W requires a 5 A-rated cable that includes a built-in chip to allow detection of how much current it can safely handle. This has been confusing for consumers as no universal labeling existed to differentiate 5 A-rated cables from 3 A-rated ones. Until now.
With the introduction of EPR, USB-IF has been hard at work establishing the official power rating for USB-C cables. The forum published a series of new logos in September 2021 that divide all USB-C cables into two categories: 60 W and 240 W. Certified cables can have corresponding logos printed or engraved on the chassis indicating the power rating, or the combination of power and data speed (20 Gbps/40 Gbps) ratings.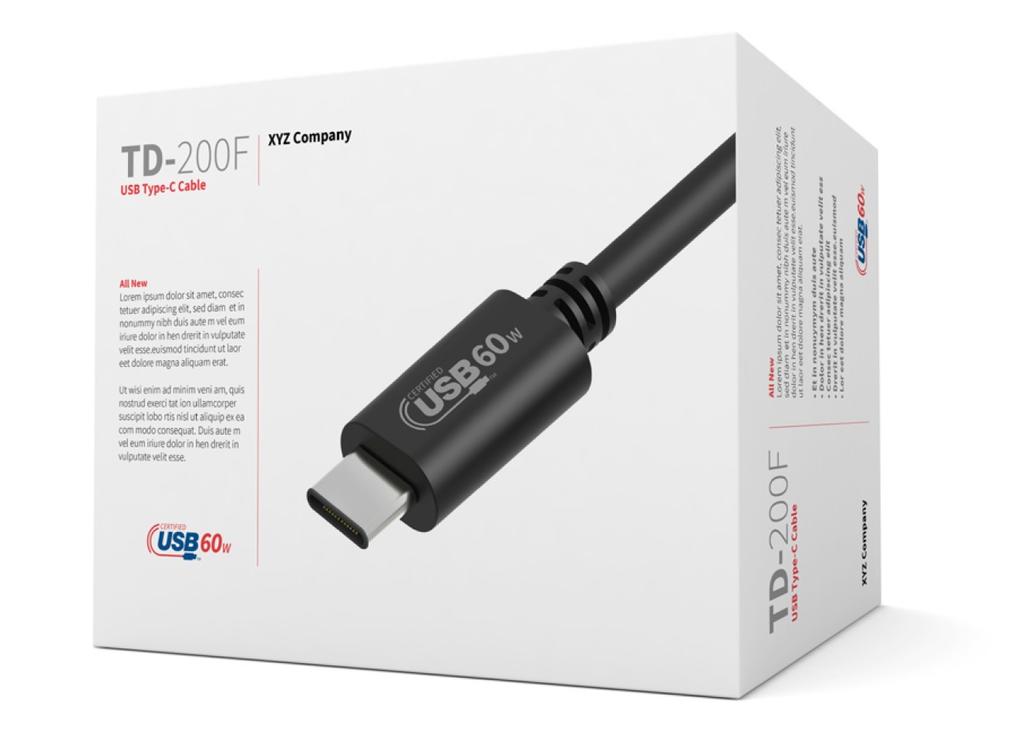 More Powerful Chargers Need GaN
The arrival of EPR creates a rush for manufacturers to design and produce the new generation of 200+ W USB-C chargers, and the key semiconductor technology in this revolution is undoubtedly gallium nitride (GaN). The size and heat reducing benefits of GaN might seem like a luxury for a 30 W cellphone adapter. They are crucial to the portability of a 220 W charger, as a typical silicon-based version can easily weigh over 2 lbs.
Power Integrations' newly expanded InnoSwitch4-CZ and ClampZero chipset supports adapters and chargers up to 220 W. Featuring a 750 V PowiGaN switch, the zero-voltage switching flyback IC and active clamping IC combination is ideal for addressing the latest USB PD 3.1 specification.
Download design example report DER-957 to see a 130 W USB PD 3.1 laptop charger using InnoSwitch4-CZ, ClampZero and PowiGaN-based HiperPFS-5 power factor correction IC.