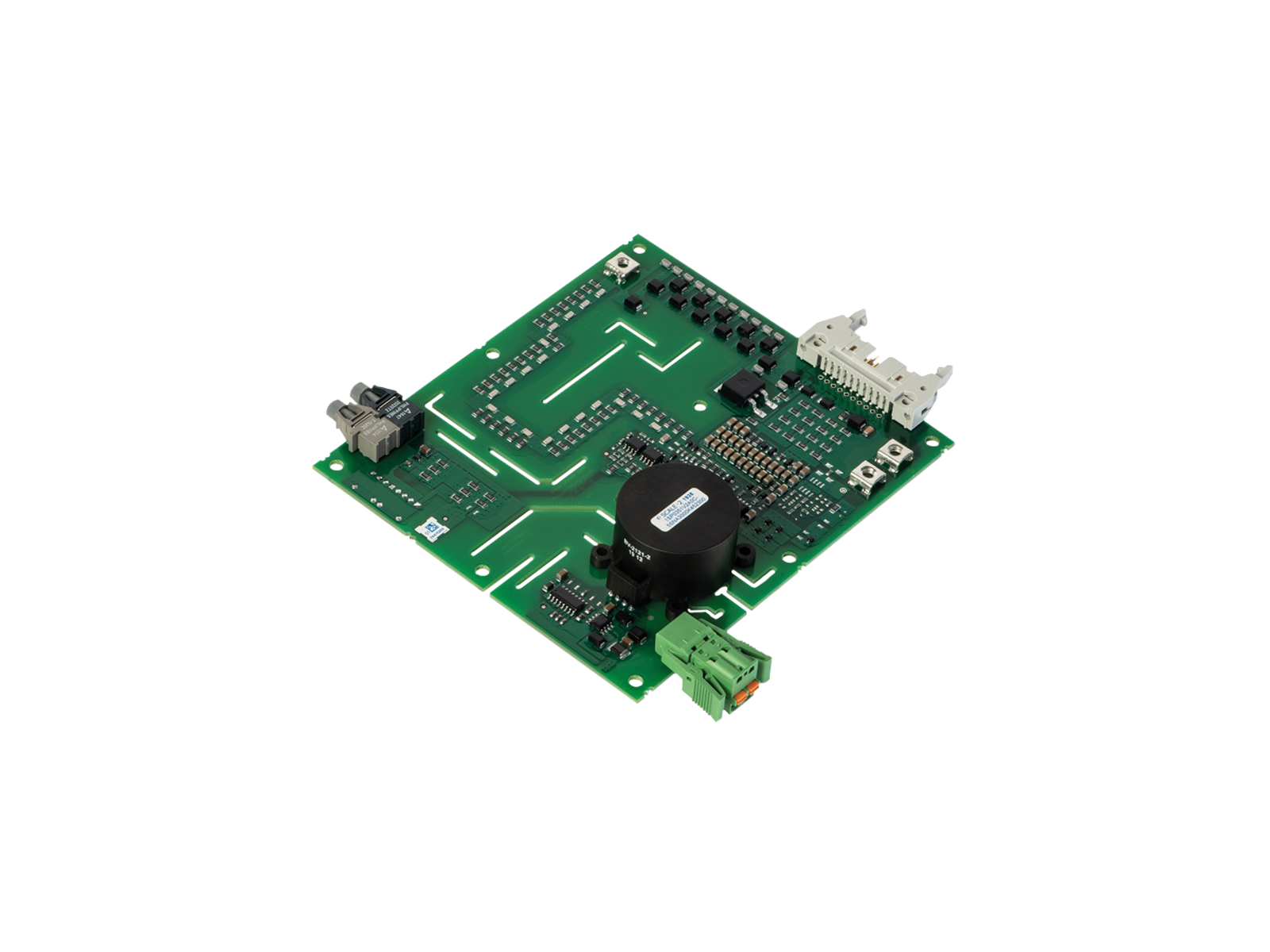 1SP0351V2C0C-T2000BB45G
Single-Channel SCALE-2 Plug-and-Play Driver for 4500 V Press-Pack IGBT (PPI) Modules
Product Details
The 1SP0351 single-channel plug-and-play gate driver is based on the SCALE-2 chip set. It is optimized for operation of 4500 V Press-Pack IGBT power modules from manufacturers such as Toshiba, Westcode and ABB.
The gate driver features optical interfaces and a built-in DC/DC power supply with basic isolation. Enhanced level of protection is provided by implemented short-circuit monitoring.
Power Integrations' Dynamic Advanced Active Clamping allows an extended DC-link voltage range in IGBT off-state for up to 60 s.
Specifications
Specifications
Supported Module(s)
T2000BB45G
Max Switching Frequency
2.00 kHz
IGBT Voltage Class
4500 V
UL Compliant
compliant
Technology
SCALE-2
ROMS
No
Product Type
Plug-and-Play Driver
Power - Output/Channel (Max)
1.80 W
Interface Type
Fiber Optic
Module Housing
Press-Pack
IGBT Manufacturer
IXYS UK Westcode
Number of Channels
1
Footnote

Single-Channel IGBT Driver

Gate Peak Current (Max)
+50 A
Product Type
Board
Product Sub-Type
PnP Driver
Supported Module Type
IGBT
Supported Topologies

2-level Voltage Source

3-level NP-Clamped - Type 1

3-level NP-Clamped - Type 2

Multi-Level NP-Clamped

Paralleling Support?
Protection Features

Dynamic Adv Active Clamping

Over-voltage

Short Circuit

UVLO(Sec-side)

UVLO(Pri-side)

Conformal Coated?
Yes
Driving Mode
Direct-Independent
Connection Type to IGBT
Cable
Supply Voltage (Typ)
15.00 V
Gate Turn-on Voltage
+15.00 V
Gate Turn-off Voltage
--9.40 V
Voltage - DC Link Off state (60s)
4000.00 V
Isolation Technology
Galvanic
Isolation Type
Basic
Gate Boosting?
Gate Peak Current (Min)
-50