Operations and Sustainability
Operations and Sustainability
Powering Our Operations with Renewable Energy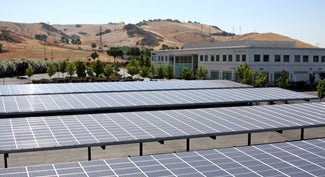 More on our solar array:
In August 2010 we switched on a 600-kilowatt solar array at our San Jose headquarters facility. The $3.6-million system generates enough power to effectively take one of our two buildings off the grid, with enough left over to power our parking-lot lights. Among the ten largest commercial solar installations in Silicon Valley at the time of its completion, the system is expected to prevent more than 10,000 tons of CO2 emissions over 25 years and save Power Integrations approximately $180,000 per year on its energy bills. The solar array doubles as a shade structure, providing shelter for 280 cars. As of fall 2013, we now have 18 electric-vehicle charging stations installed at our headquarters location.
To limit energy consumption, we employ automatic management of heating, cooling and lighting in our offices, and in 2011 we completed a datacenter efficiency project resulting in virtualization of more than 90% of our servers. We estimate that this project has saved more than five million kWh over five years, resulting in hundreds of thousands of dollars in savings and preventing thousands of tons of CO2 emissions.
Responsible Supply Chain
As a fabless semiconductor company, Power Integrations views our supply chain partners as an extension of our operations. We have a rigorous qualification process for suppliers and choose established, high-quality manufacturers; all of our wafer foundries and assembly sub-contractors are ISO 14001 certified for environmental compliance and ISO/TS 16949 certified for quality management. We audit our suppliers periodically to ensure that they follow local regulations for labor practices and environmental protection.
Power Integrations is a member of the Conflict-Free Sourcing Initiative, and is committed to ensuring that all of our products containing tantalum, tin, tungsten and gold are conflict-free or sourced from compliant smelters and refiners per www.conflictfreesmelter.org. Our manufacturing partners are encouraged to follow our Conflict Minerals Policy and conduct a due-diligence program to ensure continued compliance. We have filed a Conflict Minerals Report with the U.S. Securities and Exchange Commission, as required under Rule 13p-1 of the Securities Exchange Act.
Low-Impact Materials Use
As part of our environmental policy, Power Integrations complies with, and often exceeds, U.S. and international regulations on hazardous materials in our products.
All of our power-conversion ICs and diodes are lead-free and comply with the EU's Restriction of Hazardous Substances (RoHS) directive.
All of our products also comply with REACH, another EU regulation which assesses the risks of chemicals to human health and the environment, and controls their inclusion in products.
An increasing number of our products are fully "green," meaning that they comply with the RoHS standards and are also halogen-free.
Visit our Green Packaging site for additional information on the materials content of our products, including a complete list of our "green" part numbers. Visit our IGBT-driver site for information on the materials used in our IGBT-driver products.