Corporate Sustainability and Citizenship
Corporate Sustainability and Citizenship
CEO Balu Balakrishnan discusses Power Integrations'
600 kW solar array.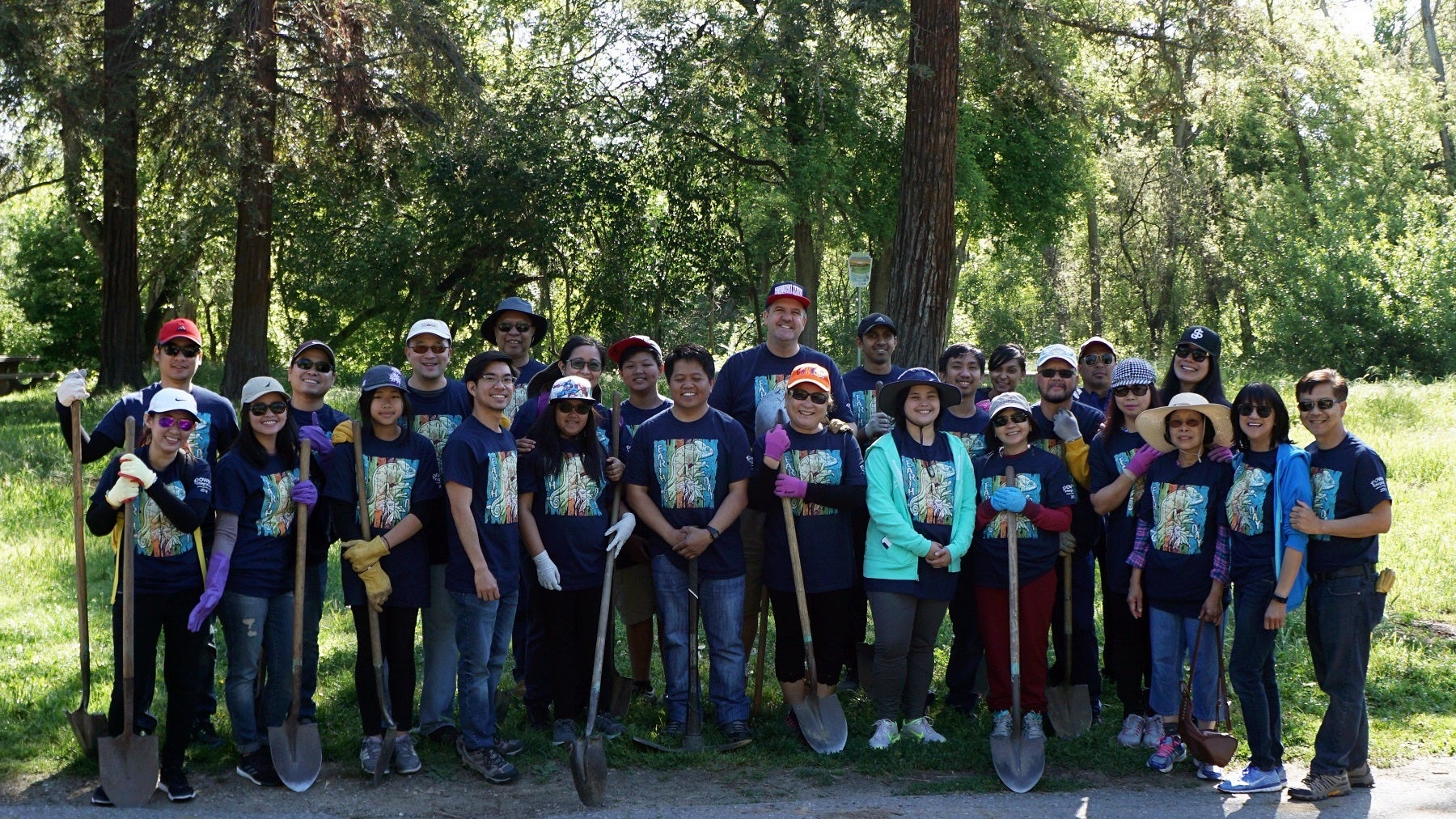 Earth Day 2018: PI employees plant trees in North San José.

Message from CEO Balu Balakrishnan
In 1997 I read a research paper from Lawrence Berkeley National Laboratory explaining that billions of dollars are wasted each year to power computers, TVs and other electronic devices that are plugged in but not in use. One of the culprits behind this "standby" waste was the power supplies that convert the high voltage from a wall outlet into the lower voltage needed by most electronics. These power supplies tended to be highly inefficient when it came to supplying just a few watts to power a remote-control sensor, LED display, or some other standby function.
At that time, Power Integrations was developing a new power-supply chip called TinySwitch™, featuring an innovative switching technique that enabled high efficiency at reduced levels of output. It was a "light bulb" moment for us; what we had thought would be a side benefit of our new product was not only a solution to a major economic and environmental problem but also a great business opportunity Power Integrations. Although efficiency was not yet a priority for most electronics manufacturers, we committed that from that point on, every new Power Integrations product would include this energy-efficiency technology, which we called EcoSmart™. Since then we have shipped billions of chips with EcoSmart technology, saving billions of dollars worth of energy and millions of tons of CO2 emissions – all without adding cost, and without any change in behavior on the part of the end user. And today, with energy efficiency now a major priority for policymakers, manufacturers and consumers, EcoSmart technology is often the key reason for customers to buy our products. We've learned that "green" business can indeed be good business.
We've doubled down on that notion in recent years with our investments in LED lighting and high-power gate drivers. Our power-conversion chips are an ideal match for the emerging LED lighting sector, delivering the reliability and efficiency needed to help LED technology fulfill its promise to transform the lighting industry. Meanwhile, our gate-driver products, attained through our 2012 acquisition of CT-Concept, are vital building blocks in high-efficiency industrial motors, electric transportation, solar- and wind-energy systems, and long-haul DC transmission. That means we now address the full spectrum of clean-power applications, enabling not just the efficient consumption of power in electronics, appliances and lighting, but also the generation of renewable energy and the efficient transmission of DC power on the grid.
More broadly, we believe that there is economic opportunity in operating with the benefit of society and the environment in mind, and that profits and social responsibility need not be mutually exclusive. We take the long view in our decision making and planning, and invest for consistent growth and profitability. That means reducing our own energy consumption, using solar energy to power our operations, incorporating "green" materials in our products wherever possible, and working with manufacturing partners that have earned ISO quality and environmental certifications. It means valuing our employees and giving them the freedom to do their best, while providing highly attractive compensation and benefits. As a result, we have a long track record of positive earnings, high levels of customer satisfaction, and an employee turnover rate nearly half the average for our region—and well below average for our industry.
I'm proud not only of what our technology has done to benefit the world, but also the responsible way in which we conduct our business. I invite you to read more about it here on our website.